If you are behind on your New Years Eve planning, we have got you covered. From parties to concerts and group workouts, check out our list of the top 10 places to get a new years kiss:
1. Monarch Rooftop Lounge – $399
If you're looking for a picturesque and fun New Year's Eve, Monarch is the perfect party spot for you! The doors to this awesome celebration open at 8 PM – with a ticket to Monarch's NYE 2015 bash, you will enjoy all you could ask for all night long. Starting at 9 PM, you'll enjoy six hours of premium open bar. Drink all the festive cocktails you could ask for… and go back for more! Bring your dancing shoes, too, because a live DJ will spin festive music all night long!
2. Penthouse 760 – $135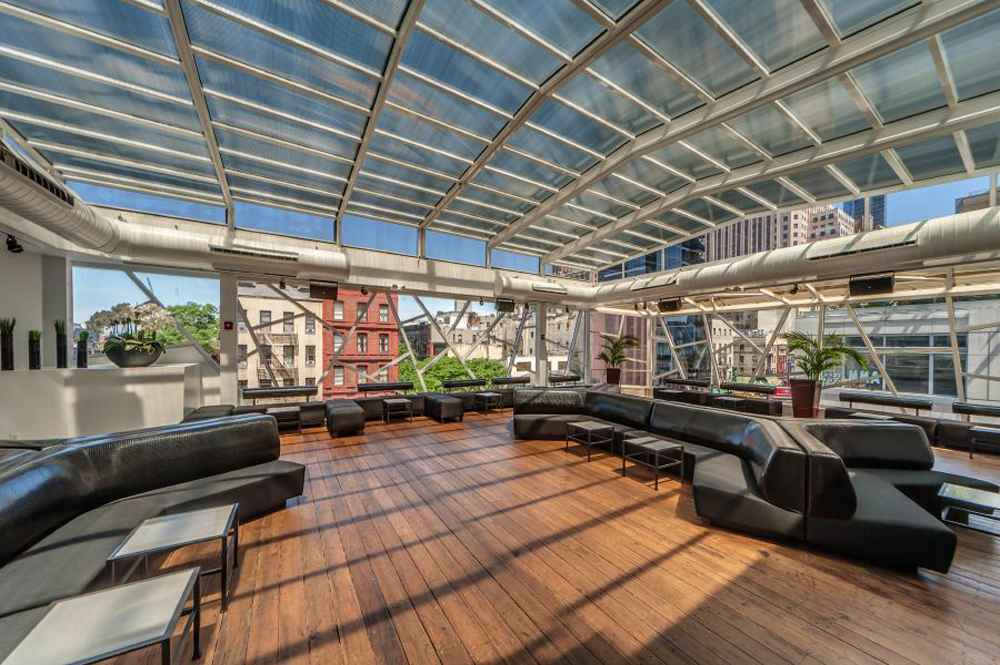 Penthouse 760 is looking to break out on New Year's as the most sought after destination in the city. Featuring a premium 3.5 hour open bar (8:30 PM-12:00 AM), buffet stations throughout the entire venue, festive party favors, a midnight champagne toast, and a live broadcast of the New Year's Eve countdown, it offers more entertainment than any venue in sight.
3. The Attic – $139
Celebrate New Year's Eve 'on top of the world' at Manhattan's premier penthouse rooftop, The Attic Rooftop &Lounge. Experience a sleek urban oasis, one that will remind you of a luxury penthouse, somewhere in St. Tropez. Starting at 9pm, a 5 hour premium open bar, and until 11:30pm, passed hors d'oeuvres.  Dance all night to the sounds of Top 40, dance, hip hop and 80's music, with a live DJ performance, playing on a state of the art sound system. Bid adieu to the old year and 'bonjour' to the brand new one at midnight, with a live NYE countdown and a complimentary champagne toast.
4. Lincoln Center – $340
Dance the night away with live music from premier artists and enjoy a Southern-style buffet dinner, open bar, champagne toast, and party favors, all while taking in the awe-inspiring view of Central Park from the majestic Appel Room. There's no city with more allure on New Year's Eve than New York, so whether you're having a romantic night out or celebrating with friends or family, Jazz at Lincoln Center is the place to be for an unbeatable countdown to 2015.
5. Skrillex + Diplo at Madison Square Garden – $118
Two of the most celebrated names in EDM music come together for a special New Years Eve show at the iconic Madison Square Garden. The show will have the two performing separately as well as under their duo name Jack U.
6. Big Apple Circus – $50
The Big Top at Lincoln Center will be filled with music, magic and memories to last a lifetime.  First, enjoy a performance of the Big Apple Circus's 35th season show, the all–new LEGENDARIUM. At midnight, welcome in the New Year with a champagne or sparkling cider toast, and join our cast of circus performers in the ring for dancing and merriment with live music provided by Rob Slowik and the Big Apple Circus Band.  Special New Year's Eve goody bags will also be provided.
7. Circle Line Sightseeing Cruise – $169
This New Year's Eve Cruise has an array of features including an amazing view of the fireworks display at the Statue Of Liberty, an all-night DJ, plenty of room to dance, delicious hors d'oeuvres, a full open bar with plenty of beverage choices and fun party favors. There will be a special toast at midnight as well. Our New Year's Eve Cruise is one of the most unique and exciting ways to ring in the new year.
8. Emerald Nuts Midnight Run – $35
This New Year's Eve race brings in the new year by taking runners through Central Park for dancing, a costume parade and contest (with Emerald Nuts prizes), fireworks, and a tour of the four-mile "inner loop" of the park's drives.
9. Lucky Cheng's – $50
The fabulous show hostesses Mayouko, Tiara, Paulina, and Miss Sweetie have been holed up sewing together feathers and sequins to present 3 spectacular New Year's Eve performances to ring in the New Year.
10. Times Square – Free
Everyone should do this at least once. You have to get into Times Square by 4pm and stand out in the usually-not-so-pleasant weather for eight hours, BUT when the clock strikes midnight magic happens.