Not only home to the most exquisite and exclusive meals in the world, New York City also employs renowned chefs from around the globe. While the average New Yorker budgets an average of around $450/mo for food, there are the elite few who seek out the highest standard of excellence in their dining experience. Here are the top 5 most expensive restaurants in NYC:
1. Masa
With just 26 seats available, getting a reservation at Masa is quite an ordeal. This fine dining establishment is located in the Time Warner Center and has no menu. Patrons are subject to the chef's choice, and from what we hear, there are no wrong choices. Diners will be looking at a $400 – $750 bill (per person) for a 26-course meal.

10 Columbus Cir, New York City, NY 10019
2. Per Se
We cannot recommend a specific dish because the menu changes daily according to what fresh ingredients Per Se can get their hands on. This Napa Valley-inspired menu by Thomas Keller will run you about $310 per person, before wine.
 10 Columbus Cir #4, New York, NY 10019
3. Kurumazushi
The restaurant-defining ingredients that Kurumazushi utilizes are flown in straight from Japan, which is probably why this place is so expensive. The omakase experience can run $300+, or you can dine more reasonably without for $100 – $200.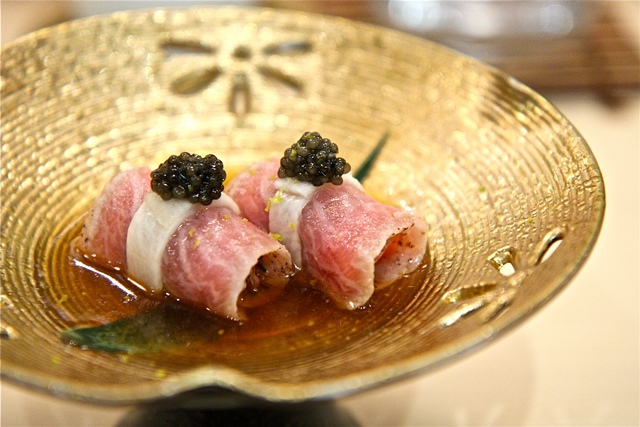 7 E 47th St, New York, NY 10017
4. Chef's Table at Brooklyn Fare
16 seats, 20 courses, 1 incredibly expensive and exclusive experience. Chef's Table at Brooklyn Fare is not an easy reservation to score, but if you're fortunate, the food is well-worth the trouble and patience. This is Brooklyn's only three-star Michelin restaurant and the menu changes nightly. This is a $225 prix-fixe dinner.
200 Schermerhorn St, Brooklyn, NY 11201
The ever changing, multi-course menu at Eleven Madison Park focuses on the culinary history of New York and the ingredients that define the city's palette. Diners can customize the menu to suit their personal preferences and dietary restrictions. This is a $225 prix-fixe dinner.

 11 Madison Ave, New York, NY 10010